A conversation about the new Ukrainian Society at the University of Bern
A conversation about the new Ukrainian Society at the University of Bern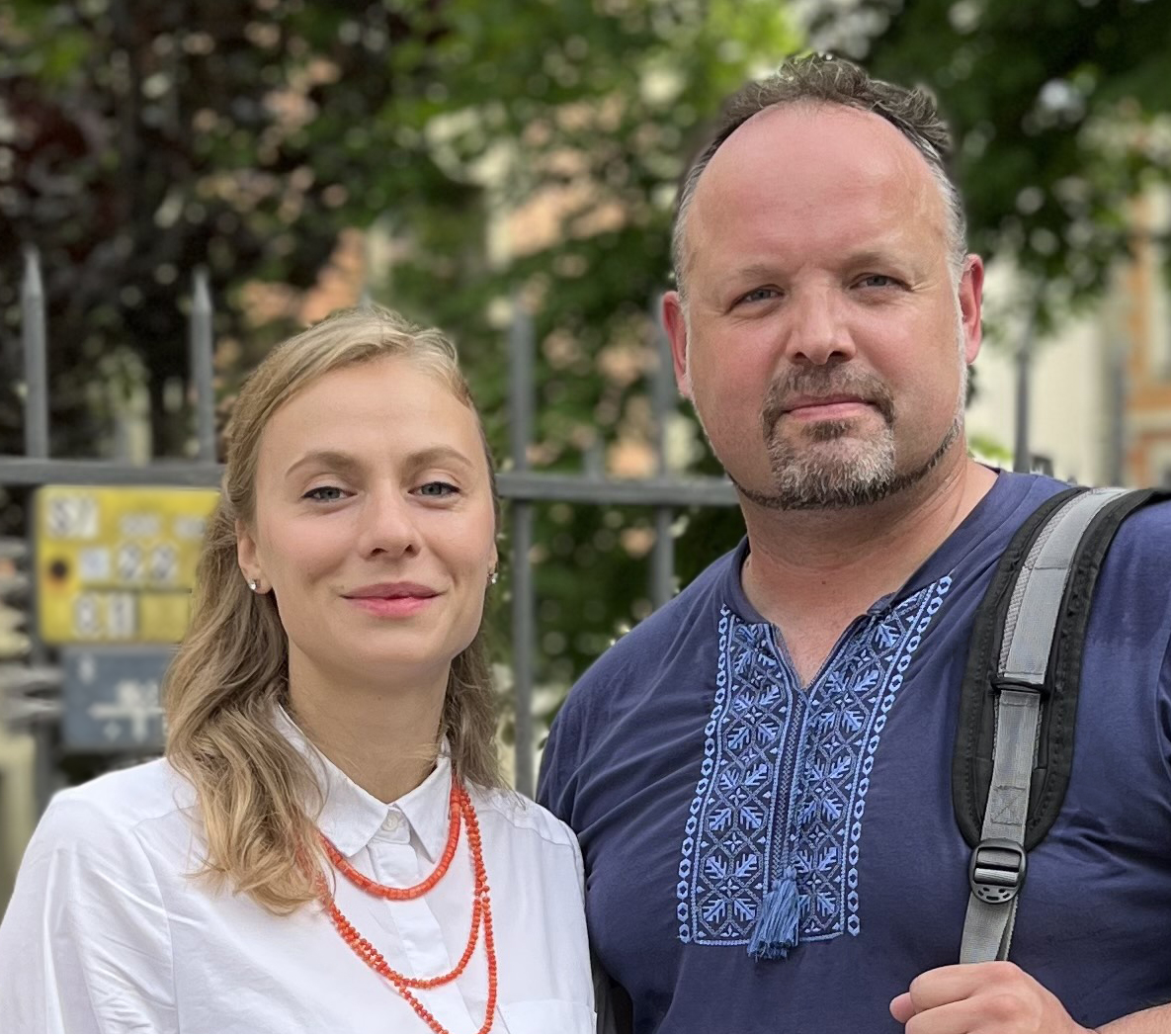 A group of dedicated volunteers established the Ukrainian Society at the University of Bern. What does it stand for, what are their plans and how can others join them? UniBE International spoke to two of its founding members: Oksana Iamshanova, postdoctoral researcher at the Institute of Biochemistry and Molecular Medicine, and Ruslan Hlushchuk, lecturer at the Institute of Anatomy.
Oksana and Ruslan, you founded the Ukrainian Society, please tell us more?
Oksana Iamshanova: The main aim of the Ukrainian Society is to support networking between Ukrainian students and employees in Bern. By now the society has 30 members from the University of Bern and 15 from the Bern University of Applied Sciences (BFH). We see ourselves as a bridge between Ukrainian scholars and these two universities. We listen to the needs of newcomers and communicate them to the boards of both universities. Another important aspect of our activities is promoting Ukrainian culture and helping with the integration of people who have just arrived in Bern.
Ruslan Hlushchuk: At my institute people approached me and said, "I'm very sorry that I learned about the location of your main cities by looking at military maps". We want to show that there is so much more to learn about Ukraine, such as its language, history, culture, traditions, and cuisine.
How did the idea for a Ukrainian Society come about?
Oksana: The idea for a Ukrainian Society was conceived just after the tragic events that happened in Ukraine. Virginia Richter, Vice Rector for Development at the University of Bern, and Ellen Krause, Executive Director of UniBE International, gathered all Ukrainian employees and students for a meeting. They wanted to offer help and discuss the needs of Ukrainians at the University of Bern. During this meeting, we decided to formalise the networking of Ukrainians and their friends by creating a Ukrainian Society.
An important aspect of the Ukrainian Society is that we are not seeking any kind of popularity or profit. We didn't list any board members because it's not about that. Helping the Ukrainian Society is not about what you can put on your CV; It's about helping and supporting people, which is most needed right now.
Ruslan: That's right, so many people are volunteering behind the scenes. The Ukrainian Society at the University of Bern is not about promoting individual people or listing board members.
You also network and advocate a lot for Ukrainian students in Bern?
Oksana: On 7 April 2022 we organised a meeting between the Embassy of Ukraine and the Ukraine working group at the University of Bern. So many students are now coming to Switzerland. These young people have dreams and are eager to acquire knowledge, but they have been displaced by the war and don't know what to do. It is important that they can continue their education and get on with their lives.
Ruslan: First we looked at ideas for online courses and twinning universities. With the input of the Ukrainian embassy, we realised that we had to focus on the people who were already here. The embassy explained to us that in Ukraine the picture is very heterogenous: In the West, like Lviv, universities are still largely functioning, whereas in the East people are struggling to get drinking water and survive. That's why the embassy suggested focusing on people who have already arrived in Switzerland because they argued when your university is being bombed you don't care about online courses.
Oksana: Twinning Swiss and Ukrainian universities can still happen in the future but right now it is important to focus on the people who are already here and need to continue their education.
How can other university members join or support the Ukrainian Society?
Oksana: To formally join the society you need to have a current or past affiliation with a Ukrainian university or be a Ukrainian citizen. But I'd like to emphasise that anybody can join our events or support the Ukrainian Society. We listed various ways how you can help Ukraine on our website, such as volunteering, donating, or simply joining one of our events. Helping Ukrainians also includes asking your Ukrainian colleagues "how are you".
We have already organised a few events, such as an Easter egg painting session. This was a great way for Ukrainians and their friends from all over the world to meet and learn something about Ukrainian culture. Some people brought their host families. There are pictures on the website.
Have you planned any upcoming activities?
Oksana: Food and music are very good ways of bringing people together. We are planning a cooking and eating event. The BFH will provide us with a kitchen and people can come, cook traditional food, and have dinner together. Some traditional recipes take a lot of time but cooking them in a group is a lot of fun. The event will take place on 9 June 2022 and if it is a success, we will repeat it. You can sign up on our website.
There are many ways to support the Ukrainian Society and Ukrainian students or refugees, be it financially or as a volunteer. If you would like to help please get in touch with the Ukrainian Society.
Interview: Caspar Bienek
Image: Oksana Iamshanova and Ruslan Hlushchuk